I built my first website in 1995. It has been a long and exciting journey since. Here are some highlights…
Smash! Magazine / Mania Magazine / AnotherUniverse.com
1995-1998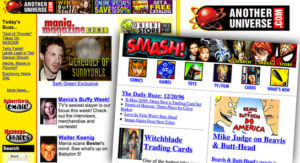 In 1995, I joined American Entertainment Group as their Creative Director. The direct response company was the leader in the comic, sci-fi, pop culture and collectibles space. In April, 1995, we launched a static web magazine designed to attract an audience we'd hoped would opt-in for our printed catalog. It worked. We kept iterating and analyzing, and our part-time web operation became a full-fledged contextual commerce platform in less than three years. I became VP in charge of this new web division, eventually leaving the catalog and print materials to a new art director. Along the way, I worked with Paul Graham and his excellent ViaWeb platform (which became Yahoo! Store). This was during the crazy dot com years of getting ridiculous funding. We did not. But we did generate millions in revenue on the web. Good times, phenomenal team.
Solutions Factory
1998-2003

I was a happy web consultant for about a year. Solo. One of my clients was Raytheon Corporation, and they asked me to work on the e-business strategy for Raytheon Marine. Once it was done, they couldn't find an agency they felt could build out the idea, so they asked me to build a team. I hired five people, bought the computers, set up payroll, 401k, health insurance and the rest. A year later, the dreaded dot com fallout began. We survived another three years and eventually merged clients and employees to another company.
Squidoo
2005 to 2014

In 2005, I responded to a blog post by Seth Godin. He was asking for help with an idea he wanted to try. Codenamed "Plexodex", the idea was actually what Squidoo is today. I spent the summer of 2005 writing the spec and producing all wireframes. We hired Viget Labs in August (2005), and then our Editor in Chief, Megan Casey, followed by our Chief Engineer, Gil Hildebrand some time after that – the founding team. Squidoo launched as a closed beta in October, 2005, followed by our public beta in December. Seven-plus years later, I'm as thrilled to be working with Seth as the first day. There's never been a more generous, thoughtful, inspiring, genuine person I've met. Our team grew with even more people I loved working with, but we always remained lean and mean. Squidoo has remained in the top 100 most visited sites in the U.S. for some time now, reaching a rank as high as 35. Squidoo was acquired by Hubpages in August, 2014.
Bright Cowork
2009 to 2014

I became aware of the coworking movement early on, with the launch of Citizen Space in San Francisco. I lived in a place I moved to for a slower pace of life. But it turned out I got more than I bargained for. If there were any web people around me, I had no idea who they were or where they were. We had nothing in the way of meetups or anything else. As Twitter grew, I started noticing signs of hope. So instead of moving to a place where coworks already existed, I decided to start one in the tiny city of Winchester, VA. We opened the doors January, 2009 and we're still open today. More than one person told me it wasn't going to work, which is probably one of the reasons why it did: I wasn't going to let it fail. Not without a big fight.
Refresh Winchester
2009 to 2014

Refresh was the thing I wanted to start at first (not Bright Cowork). But I couldn't find anyone willing to host it, so we needed a space. Nine months after Bright Cowork's doors opened, we kicked off Refresh Winchester. For three-plus years, the community grew and lasting friendships developed.
No Treble
2009 to present

What started out as a pet project has grown into a full-fledged business and one that often requires a lot more of my time than I ever thought possible. No Treble in a phrase is this: the online magazine for bass players I wished existed but didn't. There were plenty out there, and many bigger names participating. I don't like entering spaces where there's no chance to be #1, and while I knew it would be a big climb, I felt it was possible. It took about three years to get No Treble to that spot, and we're not looking back. This niche site now gets over 180,000 unique visits a month, with a Facebook page followed by more than 218,000 people. Even better than all those stats: I met Kevin Johnson, who has become No Treble's Managing Editor and even better than that, a person I consider one of my best friends. I hope Kevin and I get to work together for a long, long time. Plus, we get tons of CDs, backstage passes, write-offs for attending the annual NAMM show, and other shenanigans.